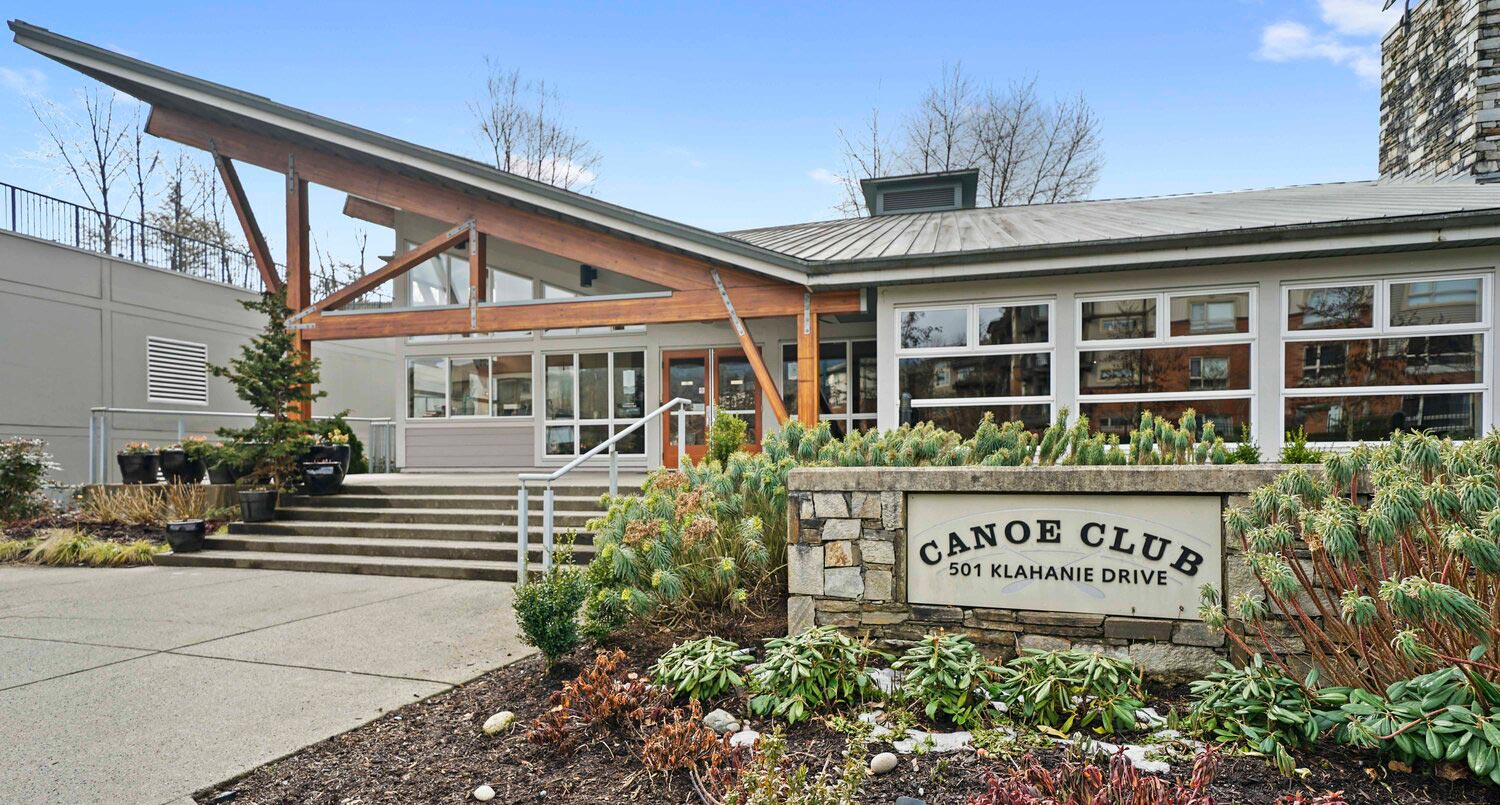 OFFICE INFORMATION
HOURS OF OPERATION:
Tuesday to Saturday
9:00am – 5:00pm
OFFICE PHONE NUMBER:
604-375-6960
OFFICE EMAIL:
[email protected]
CANOE CLUB RULES FOR USAGE
All patrons must know and follow all rules.
Any violation of any of the facility rules or confrontational behaviour towards the Canoe Club staff, or other residents, will result in immediate suspension of facility use for 3 months.
The Canoe Club is for the use of Klahanie Development Owners or tenants of Owners and their guests only:
a) Access to the Canoe Club will be for Owners or Tenants of Owners but not for both. If an Owner chooses to have access to the Canoe Club facilities, then their tenant will not be allowed access. If an Owner chooses to allow their tenant to have access to the facilities then the Owner will not be allowed access. The purpose of this rule is to limit wear and tear and control the number of persons using the facility.
b) All Visitors must be accompanied by an Owner
c) Guests are limited to two (2) adults per strata lot
d) Minors (under 16 years) must be accompanied at all times by an adult (over 19 years).
e) No pets or animals allowed, with exception of certified assistance dogs.
f) Smoking anything is NOT permitted.
g) Consumption of alcohol by Owners and their Guests is NOT permitted unless a private party has been booked by the Owner and a liquor license has been purchased. No alcohol is permitted on the pool deck.
h) Smoking e-cigarettes and or vaping is not permitted at the Canoe Club Facilities.
 Canoe Club amenity rooms available for private bookings (see 'booking policies' for further information and applicable fees):
a)Poolside Lounge (including kitchen)
b) Multi Purpose Room
c) Theatre Room
d) Meeting Room
e) Gymnasium
f) BBQ Rental Reservations, subject to specific safety rules. *currently unavailable
When using the billiard table: Equipment is to be returned to the designated storage location.
 When using the Theatre Room:
a)All food and drinks must be in proper containers and all garbage must be removed immediately
after use.
 When using the Gymnasium:
a) No black soled shoes permitted.
b) No hard balls permitted
When renting the Guest Suites:
a) Maximum 2 adults per room
b)After 10pm, guest(s) are not permitted in any other area of the Canoe Club with the exception of the residents floor and guest suites.
c) No loud music permitted.
General consideration and cleanliness:
d)All counters, tables, and kitchen areas must be cleaned after use.
e) All personal garbage must be removed.
f) No thumbtacks or tape of any kind are to be used on the walls, ceilings or other surfaces.
Any damage to the premises must be reported to the Canoe Club staff immediately.
 Anyone not complying with these regulations may be denied the use of the facilities and/or fined. The first offence is subject to suspension of fob for a period of four (4) weeks for the first offense and a period of eight (8) weeks for the second offense.
The Strata Corporation and the Canoe Club Committee are not liable for accidents or any injury while using the facilities at the Canoe Club.
 The Canoe Club is for the use and enjoyment of all Klahanie Community Owners and Residents, therefore no commercial or business activity is permitted.
Owners are responsible for ensuring that there is no illegal activity taking place by the Owner or their guests. All illegal activity must be reported to the Caretaker immediately.
The Canoe Club Committee may authorize exclusive use of certain portions of the Canoe Club or Amenity Rooms to recognized or approved clubs from time to time.
 A maximum of two (2) fobs per unit is permitted.
Adult hours are between 7:00 am to 9:30 am and 8:00 pm to 10:00 pm.
SWIMMING POOL – HOT TUB RULES
1. The pool and the hot tub are for the general use of all Owners and their guests. An adult Owner
must accompany guests when using the pool and the hot tub and be in attendance at all times.
2. Each Strata lot is allowed a maximum of two guests. Maximum stay limited to 2 hours.
3. No boisterous or rough play or unnecessary noise permitted at any time. Please see notices posted at pool side.
4. Swimwear must be worn at all times.
5. Children under the age of 16 years must be accompanied by a resident adult. The adult must remain in attendance at all times.
6. Showering before entering the pool or the hot tub is mandatory.
7. Any person wearing a bandage or having any apparent skin disorder, open sores, inflamed eyes, cough, nasal or ear discharge or any communicable disease shall be excluded from use of the pool
amenities.
8. Beverages are permitted in plastic containers only.
9. Glass including but not limited to glass containers, bottles or other breakable items are not permitted in pool areas or the BBQ area (with the exception of eye wear).
10. No bikes, roller-blades, roller skates, or skateboards are permitted.
11. No running or horseplay is permitted.
12. No diving into the pool or the hot tub
13. Music, radio, or any sound equipment is permitted only if earphones are used.
14. Please do not enter the Canoe Club amenity rooms when wet from the pool. Use the washroom to dry off, and change before using seating inside the clubhouse.
15. The Canoe Club Committee reserves the right to deny use of the pool amenities to any one at any time.
16. No floatation devices (such as mattress, chairs, etc.) are permitted, with the exception of life preservers.
17. Children with regular cloth diapers or disposable diapers are not permitted in the pool. "Swim" diaper products will be permitted. Children who are not toilet trained may only enter the pool if using a "swim" diaper product. Children are not permitted in the pool if they are not wearing proper attire (swimsuits
or "swim" diapers).
18. Adult Only Hours are from 7:00am – 9:30am, and 8:00pm – 10:00pm.
19. No food or alcoholic beverages allowed with the exception of the BBQ deck area. Alcohol may be consumed on the BBQ deck area if a private party has been booked by the Owner and a liquor license has been purchased.
ADDITIONAL POOL AND HOT TUB RULES
1. The Canoe club is for the sole use of Owners in the Klahanie Development Complex and guests.
2. Guest must be accompanied by an Owner from the Klahanie Development Complex.
3. Minors, sixteen (16) years or younger, must be accompanied by an adult.
4. Smoking is not permitted
5. Pets are not permitted on the grounds or in and around the Canoe Club.
6. Under no circumstances is the consumption of ALCOHOL permitted in or around the pool.
7. The Pool is not available for parties and is open to all residents with the limit of two guests.
8. The BBQ area may be reserved by request for private events.
9. The Hot Tub is available year round, but a shower is required before entering.
10. The Pool is open at the beginning of the long weekend in May and is operational from 7:00 A.M to
10:00 P.M.
11.THE POOL IS NOT ATTENDED BY A LIFEGUARD.